Freeman Plastic Surgery: Mark E. Freeman, MD
1855 Madison Avenue
Idaho Falls, ID 83404
Phone: (208) 881-5351
Toll-Free: (866) 833-5351
Mon–Thu: 8:30 a.m.–5 p.m.
Fri: 8:30 a.m.–4 p.m.

Meet Dr. Freeman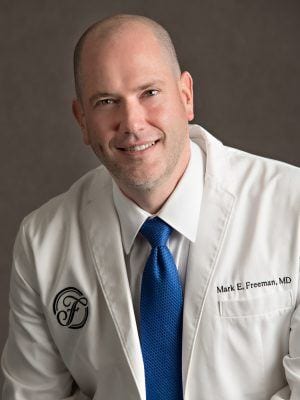 Cosmetic plastic surgery can be an exciting and incredibly rewarding experience. It involves many critical decisions, most importantly selecting the right plastic surgeon to ensure your safety and beautiful results. You want a surgeon with remarkable credentials, as well as a passionate dedication to his patients and to cosmetic plastic surgery. A board-certified plastic surgeon in Idaho Falls, Dr. Mark Freeman meets and exceeds those qualifications.
From experience at the world-renowned Mayo Clinic to training with some of the best plastic surgeons in the U.S. and abroad, Dr. Freeman's reputation and artistic eye attract patients from Canada, Utah and throughout Wyoming and Montana for plastic surgery—not to mention residents of Twin Falls and other Idaho cities. Dr. Freeman and fellow surgeon Dr. Matthew Hagan also provide their patients with something more: an empathetic, warm approach that makes their patients feel supported and cared for throughout their experience.
"I wanted to express how pleased I am with my surgery. You did exactly as I asked with even better results than I could have anticipated. With each postop day I marvel at your work, in absolute awe of your artistry." — J.J. Jackson, Wyoming
Qualifications
Certified by the American Board of Plastic Surgery
Member of the American Society for Aesthetic Plastic Surgery
Fellowships in plastic surgery, aesthetic surgery, facial aesthetic surgery, and laser therapy
Author of more than 15 articles in surgical journals and a chapter in the Mayo Clinic's first surgery textbook
Appearances on Entertainment Tonight and The Insider
Years of private practice in aesthetic surgery
Dedication
Dr. Freeman's dedication to his patients sets him apart from many Utah, Montana, and Idaho plastic surgeons. His focus on achieving your vision for your outcome is apparent even during your initial consultation. You'll never feel embarrassed about asking questions, because Dr. Freeman encourages it. He'll never pressure you, but will listen closely and help guide you to your ideal result.
In addition, Dr. Freeman and his talented team of medical professionals will be there for you before and after your procedure. You can easily contact him if a question arises after your surgery. Dr. Freeman will give you his personal cell phone number, as well as his satellite phone number if he's on vacation.
"Dr. Freeman really listened to what I wanted and also gave me advice. I love the way I feel and look. I have already referred 2 people to Dr. Freeman." — B.L., Newdale, Idaho
Education and Experience
Dr. Freeman has a long list of academic achievements, and possesses the education, training, experience, and artistic eye that you want from a plastic surgeon. He was selected for a highly coveted residency at the prestigious Mayo Clinic and authored a chapter in the clinic's first official surgical textbook. During a subsequent plastic surgery fellowship at the Mayo Clinic, Dr. Freeman earned certification from the American Board of Plastic Surgery. He also presented research on breast surgery at the International Society of Plastic and Reconstructive Surgeons in Sydney, Australia and later at the European Society of Plastic and Reconstructive Surgeons in Vienna, Austria.
Following his plastic surgery fellowship, Dr. Freeman chose to pursue optional, advanced training in aesthetic surgery. He was invited to Melbourne, Australia to work with Dr. Bryan Mendelson, a world-renowned expert and President-elect of the International Society of Aesthetic Plastic Surgeons. Dr. Freeman assisted his mentor in studies that led to the discovery of several innovative procedures to correct aging of the jowls and lower face.
On his return to the U.S., Dr. Freeman was awarded the opportunity to work in Los Angeles with the internationally recognized (and often televised) plastic surgeon Dr. Grant Stevens. Under his guidance, Dr. Freeman learned advanced techniques in breast enhancement, body contouring such as liposuction and tummy tuck surgery, and laser therapy. Dr. Freeman appeared on several television programs with his mentor, including Entertainment Tonight and The Insider, and authored 5 separate papers on cosmetic plastic surgery. During his time in L.A., he also worked closely with Dr. David Stoker (known for his work on Extreme Makeover Weight Loss Edition) as well as several other "surgeons to the stars" in Santa Monica and Beverly Hills.
You want the surgeon with the most experience in aesthetics to perform your cosmetic surgery. In addition to board certification, Dr. Freeman has been elected to the American Society for Aesthetic Plastic Surgery, which admits only those board-certified plastic surgeons with the most documented experience in aesthetic/cosmetic plastic surgery.
Why Idaho?
Before moving west, Dr. Freeman worked in an exclusive cosmetic surgery practice in Ponte Vedra Beach, Florida. Since then, he has become one of the most popular plastic surgeons in Idaho. Dr. Freeman is helping to set the standard for quality plastic surgery in the Rocky Mountain region.
While Dr. Freeman enjoys outdoor activities the area offers, such as fishing, hiking, camping, rafting, and skiing, he feels the people are what make this community truly great. He enjoys the smaller town feel of Idaho Falls, as well as visiting Jackson Hole and Sun Valley. He says he feels better knowing there is a moral center in the area and appreciates the commitment residents have to their country, religion, and community.
"We are so lucky to have Dr. Freeman in our community. If you ever meet him you will know what I mean. I will always be grateful for Dr. Freeman and his staff." — J.C., Idaho Falls, ID
Dr. Freeman and the rest of the staff here at Freeman Plastic Surgery can't wait to help you look and feel your best. Take the first step now. Request a consultation with Dr. Freeman, or call him today at (208) 881-5351.
Back to Top