Freeman Plastic Surgery: Mark E. Freeman, MD
1855 Madison Avenue
Idaho Falls, ID 83404
Phone: (208) 881-5351
Toll-Free: (866) 833-5351
Mon–Thu: 8:30 a.m.–5 p.m.
Fri: 8:30 a.m.–4 p.m.

Laser Skin Resurfacing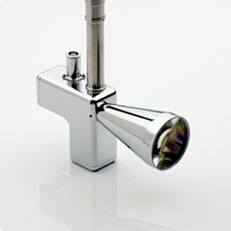 Using the advanced Contour TRL™ laser by Sciton®, board-certified plastic surgeon Dr. Mark Freeman is pleased to offer leading-edge laser facials and laser skin resurfacing at his Idaho Falls cosmetic plastic surgery location. Laser skin resurfacing is a versatile option that can smooth and even out the skin, reducing the appearance of wrinkles, lesions, and even loose or sagging skin.
Before & After Photos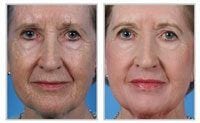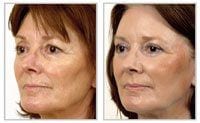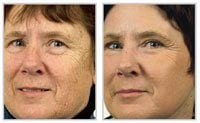 Photos Courtesy of Sciton®
What Is Laser Skin Resurfacing?
Laser skin resurfacing is a non-surgical procedure that uses the power of laser energy to remove damaged skin while simultaneously stimulating the skin below to develop additional collagen. Combined, these effects can treat a variety of common skin concerns, including:
Erasing fine lines and wrinkles
Tightening eyelids
Improving scars
Eliminating rough patches of skin called actinic keratosis
Smoothing out irregular skin tone
Treating skin laxity or sagging
The Contour TRL system uses an erbium:YAG laser that can be adjusted in intensity to suit the needs of many different patients. For example, some patients may opt for a single, more intense session with several days of downtime or a series of less intense sessions with minimal recuperation. Our favorite thing about the Contour TRL system is that it is completely customizable for each patient's needs, allowing us to actually "Dial in the Downtime."
View Before & After Photos
NanoLaserPeels & MicroLaserPeels
We offer several packages of remarkable same-day laser peels that vary in both their depth and downtime. The most popular options are the NanoLaserPeel and the MicroLaserPeel.
The NanoLaserPeel is our most gentle resurfacing procedure to treat fine lines, leaving the skin renewed and refreshed in only 3 to 4 days with virtually no downtime. The NanoLaserPeel is fantastic a week before those big events and parties. Regular treatments are recommended for significant long-term results.
The MicroLaserPeel treats the skin at a slightly deeper level and leaves the skin with a "sunburn" for 2 to 3 days. This leaves the skin with improved texture and begins to erase the deeper or more noticeable lines and wrinkles. The MicroLaserPeel is usually our most popular treatment for correcting sun damage.
At Freeman Plastic Surgery, we also offer treatments with the advanced Halo™ Laser. This system combines multiple laser wavelengths for customizable treatments. We can determine which option is the best fit for your skincare goals.
What to Expect During a Laser Skin Resurfacing Treatment
During your procedure, a member of our laser team begins by cleansing your skin. We may even administer a topical anesthetic, depending on the intensity of your procedure. Your practitioner then holds the laser above your skin, precisely targeting the areas you want to treat. Most treatments last from 15 to 45 minutes depending on the treatment selected.
Although laser skin resurfacing is often performed on its own, it also makes an exceptional complement to a facelift or eyelid surgery. During your consultation, Dr. Freeman recommends a treatment plan that's likely to give you the results you want.
What Is Laser Skin Resurfacing Recovery Like?
Generally, patients are able to get back to their usual activities within a day or 2, but we'll give you a more specific timeline during your consultation. Obviously, the more significant the result desired, the longer the downtime will be. It's important to remember to avoid excessive sun exposure while your skin heals.
The results of your laser skin resurfacing treatment can take several days to develop, with noticeable results appearing around the 1- to 2-week mark. Over the next 2 to 3 months, your skin's tone, texture, and elasticity will gradually improve for a noticeable, long-lasting result that defies your age.
If you want to find out more about your laser skin resurfacing options, request a consultation online or call (208) 881-5351 to meet with our team.
Back to Top