Freeman Plastic Surgery: Mark E. Freeman, MD
1855 Madison Avenue
Idaho Falls, ID 83404
Phone: (208) 881-5351
Toll-Free: (866) 833-5351
Mon–Thu: 8:30 a.m.–5 p.m.
Fri: 8:30 a.m.–4 p.m.

Breast Lift
Breast Lift
Breast Lift with Augmentation
As the body changes with age, the breasts are often the first area affected. Some women with dense breast tissue will maintain a youthful shape into their 50s while other young women will never develop an ideal breast shape. While aging is the most common factor, childbirth, or genetics may also cause drooping or sagging breasts. Dr. Mark Freeman performs breast lift surgery in Idaho Falls, Idaho to help women from Jackson Hole, Boise, Pocatello, and surrounding areas renew their breast shape as well as their confidence.
It's easy for women to learn more details about breast lift surgery at our Idaho Falls practice. Simply request an appointment online with Dr. Freeman, who is happy to help you explore your cosmetic options.
Breast Lift

Before & After Photos
WARNING:
This feature contains nudity. Please click OK to confirm you are at least 18 years of age and are not offended by such material.
Why Do the Breasts Sag?
When the breasts become engorged with pregnancy, the Cooper's ligaments that suspend the breast tissue stretch and often do not "snap back" following the delivery. This so-called "involution" is quite common in women with more than one child. The same type of deflation phenomenon occurs in women who have lost a significant amount of weight.
About Breast Lift Surgery (Mastopexy)
A mastopexy or breast lift is the procedure of choice to rejuvenate the shape of the drooping or flattened breast. This procedure uses a natural envelope of skin and breast tissue to lift the nipple and areola into a youthful position to create a more "perky" breast. While some patients need only minor skin adjustments, others need a total rearrangement of the breast tissue.
I believe that the breast lift is one of the most unique procedures of its kind and requires a knowledgeable breast surgeon. Numerous details must be discussed including the desired size and shape of the breast, the elasticity of the skin and ligaments, as well as the size and location of the nipple and areola. As with all of my Idaho breast lift patients, each procedure is tailored to meet the needs and expectations of the individual. I spend a considerable amount of time in consultation to design each step and discuss the various options available to achieve the ideal shape.
Meet Our Surgeons
Credentials You Can Trust


Your Breast Lift Surgery
In a standard breast lift procedure, the actual breast tissue is usually not removed. However, it is possible to add or subtract breast volume at the time of surgery. Some patients who have lost a significant amount of volume in their breasts may wish to have a breast implant placed at the time of surgery to improve the breast size and shape. At many practices in Idaho, breast augmentation with breast lift is generally performed in two separate surgeries. However, I have published several research papers in the field of breast lift surgery and find that I am frequently able to combine these procedures with only one surgery. Conversely, women who have chosen breast implant removal sometimes opt for a breast lift to perfect their new post-implant shape.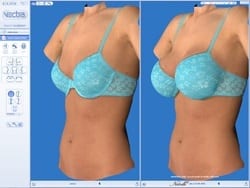 With the VECTRA® 3-D imaging system, you can actually compare the results of getting a breast lift alone with how you might look having the lift combined with breast implants. Although photo galleries of actual patients remain a useful tool, the VECTRA system provides a unique vision of your procedure's possibilities. Using advanced software, the VECTRA system combines your image with medical data to create a highly realistic 3-D simulation that can be viewed from different angles.
Vectra® 3-D
Visualize the results of your facial, body, or breast procedure before surgery. The VECTRA system combines your image with medical data to create a highly realistic 3-D simulation.
As aging and childbirth usually have effects on the torso as well, I am often asked by my Wyoming and Idaho patients if breast lift surgery can be combined with liposuction or tummy tuck (abdominoplasty) near Pocatello, Idaho. These combined cases such as a "Mommy Makeover" or rejuvenation surgery following weight loss, are quite possible in most healthy patients and can completely revitalize the contour of a patient's form. In performing these operations at Freeman Plastic Surgery, I am able to give Idaho Falls plastic surgery patients the figure they had all but forgotten about. Safety is my number one priority, therefore certain health criteria must be met before any combined or extensive surgery.
Back to Top