Freeman Plastic Surgery: Mark E. Freeman, MD
1855 Madison Avenue
Idaho Falls, ID 83404
Phone: (208) 881-5351
Toll-Free: (866) 833-5351
Mon–Thu: 8:30 a.m.–5 p.m.
Fri: 8:30 a.m.–4 p.m.

Broadband Light Therapy (BBL)
Broadband Light Therapy (BBL)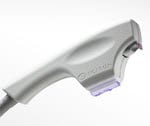 Broadband light therapy (BBL) is one of the most advanced and versatile treatments available for those who want to give their skin a youthful, even glow. BBL at our Idaho Falls cosmetic plastic surgery location provides an effective option for acne treatment, hair removal, reducing red and brown pigmentation, and even fading spider veins for men and women from all walks of life. Here at Freeman Plastic Surgery, we offer both corrective BBL and specialized treatments with the Forever Young BBL device from Sciton® for people from Pocatello and surrounding areas.
What Is BBL?
BBL is a versatile therapy that delivers low-frequency light energy to the skin. This energy works at deeper levels, gently heating the skin and stimulating it to generate more collagen. That collagen is vital for keeping skin supple and youthful. BBL is an effective way to treat many common skin irregularities, including:
Redness caused by rosacea or broken capillaries
Freckles and age spots
Uneven skin coloration
Spider veins
Acne
Unwanted hair
The Forever Young BBL device works a bit differently by actually reviving the DNA in treated skin, encouraging it to develop more of its own collagen for skin that shows marked improvement in tone and texture. Your skincare professional can help you decide which treatment is better suited for you.

Before & After Photos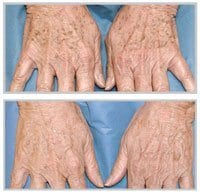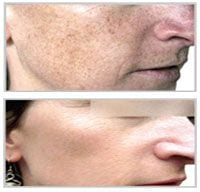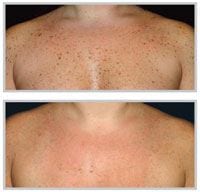 Photos Courtesy of Sciton®
View Before & After Photos
Wrinkle Treatment
We lose collagen as we age, which leads to fine lines and wrinkles in our skin. BBL gently encourages new collagen production for smoother, younger-looking, more elastic skin. You may need a series of a few treatments to see your best results, depending on the severity of your lines and wrinkles.
Acne Treatment
Through a series of treatments, BBL can be used to target and destroy specific acne bacteria. To accomplish this, we adjust the wavelength of the device. These treatments usually take only about 15 minutes, and they can be repeated weekly for a long-lasting improvement. A series of 4 to 6 treatments is often necessary to clear the skin of deep-rooted bacteria hiding within the pores.
Sunspot (Age Spot) Removal
BBL minimizes dark spots by reducing their excess pigment. It is effective for age spots (liver spots) as well as hyperpigmentation caused by sun damage. Because the treatment also gently stimulates collagen production, it helps further treat overall signs of aging.
Laser Hair Removal
BBL also has the added benefit of hair removal because it heats and damages follicles, a welcome ancillary benefit for many. BBL is gentler than most laser procedures, and our patients love that it doesn't cause burns, bruising, or peeling.
What Is Forever Young BBL?
Forever Young BBL goes beyond other skin treatments because it actually changes the skin's protein production at a molecular level. As our skin cells age, the proteins they create also change into weaker versions of their younger predecessors. Older, weaker proteins and collagen are responsible in large part for the aging of skin.
Research has shown that exposing the skin cells to Forever Young BBL rejuvenates the genes in skin's DNA so they behave more like younger cells, producing better and stronger proteins and collagen usually seen only in younger skin. The result is skin that looks younger, firmer, and more even. Much like plants in the spring, our skin's DNA responds to the regular, increased exposure to this specific kind of broadband light to begin to flourish and bloom once again.
What to Expect During a BBL Treatment
Prior to your treatment, your practitioner will review your skincare goals and help you determine whether corrective BBL or Forever Young BBL is right for you. At our Idaho Falls practice, BBL is a brief, comfortable procedure that we perform in our office. No anesthesia is required.
During the procedure, a member of our staff first cleanses your skin. We then apply the BBL handpiece to your skin, directing short pulses of light energy to the targeted area. Most patients say the procedure produces either no discomfort or a mild stinging sensation that is quite easy to tolerate. However, we do have numbing cream available if you feel any discomfort.
Depending on the treatment area, each session takes only about 30 minutes to complete. You may return to your regular activities immediately following your appointment.
What Is BBL Recovery Like?
It's important to use good skincare products and to be vigilant about sunscreen application during the first few weeks after a BBL treatment, as the procedure makes your skin more sensitive to the sun.
During this time, your dark spots will likely temporarily darken further. This is normal and an indication that the procedure was effective. Eventually, the dark pigment will scatter, your skin will brighten, and its color will become more even.
How Many BBL Treatments Will I Need?
Corrective BBL typically requires only 1 or 2 treatments before patients notice a drastic improvement in red and brown pigmentation irregularities.
Forever Young BBL should be repeated 3 or 4 times a year to maintain younger-looking skin.
Many patients get the best results from a series of BBL treatments, depending on the concerns they wish to remedy. During your consultation, we can give you a better idea of the options that are available to you. We can also talk about laser skin resurfacing or gentle nonsurgical treatments that may serve your goals as part of a comprehensive treatment plan.
How Long Will BBL Results Last?
Your results can last indefinitely, especially with good skin care. In one study, patients treated more than a decade ago still saw results.
Ready to Get Younger-Looking Skin?
If you want to find out more about what these services can do for you, request a consultation online or call (208) 881-5351.
Back to Top