Freeman Plastic Surgery Laser & MedSpa: Mark E. Freeman, MD
1855 Madison Avenue
Idaho Falls, ID 83404
Phone: (208) 881-5351
Toll-Free: (866) 833-5351
Mon–Thu: 8:30 a.m.–5 p.m.
Fri: 8:30 a.m.–4 p.m.

Med Spa Services
Dr. Mark Freeman and his aesthetic staff understand that patients have a wide range of goals that often extend beyond plastic surgery. With that in mind, they've built their Idaho med spa around the skin care needs of their patients. At Freeman Plastic Surgery, it is important that we keep up with the latest advances in aesthetic medicine, so we frequently add new aesthetic services or med spa procedures to our menu. Whether you're coming from Pocatello to treat yourself to a facial or one of our other skin care services in Idaho Falls, our knowledgeable staff uses the latest services and products to give you the results you want.
Patients travel from throughout Idaho to Freeman Plastic Surgery to undergo rejuvenating med spa services. If you want to find out more about your options, request an appointment online or call (208) 881-5351 to meet with us and discuss your goals.
VISIA® Complexion Analysis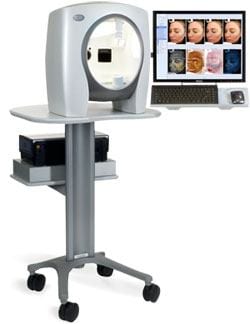 See your skin in an entirely new way with the 3–D VISIA Complexion Analysis device. Using specialized cameras, VISIA captures multiple images of your skin and closely analyzes them to assess your skin's health and areas of concern. Eight separate scores are then obtained after comparing your skin to a database of more than 4 million other patients to help our skincare professionals determine which of our specialized treatments would benefit you the most. See potential trouble spots before they appear, focus your treatment on the areas where your skin needs it most, and track the progress of your treatment regimen with this specialized technology. Each 3-D VISIA analysis lasts for about 45 minutes and includes plenty of 1–on–1 discussion to ensure you fully understand your results. You will also be provided a copy of your photos and results to take home to review later.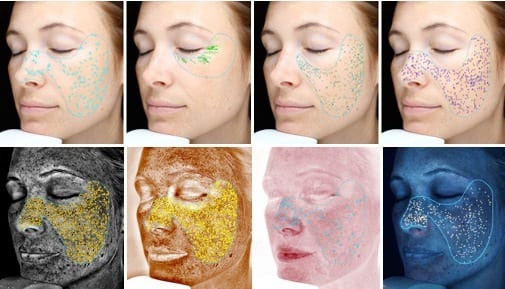 Facials
Popular with celebrities, this facial uses revolutionary technology to turn back the clock by working inside the skin's layers. While the skin's surface is deeply exfoliated, the underlying dermis is bathed with nutrient-rich vitamins and anti-aging serums. Skin is left deeply cleansed and nourished for lasting moisture and radiance. Learn More
European Facial | 60 minutes | $95
Our European facial is a thorough, deep cleansing treatment for the face and neck. Through a special combination of skin cleansing and muscle relaxation, it's used to improve the look, feel, and health of skin. For many European women, this facial is considered the quintessential treatment for optimal skin care.
Chemical Peels
Illuminize Peel® | 30 minutes | $100 | $300 for a series of 3
Also called the Glow Peel, the Illuminize Peel is designed to treat mild skin imperfections and reduce the appearance of fine lines and pigmentation concerns. This wonderful treatment has absolutely no downtime with little to no visible peeling, making it a perfect way to prep for a special occasion.
Vitalize Peel® | 30 minutes | $150 | $330 for a series of 3
The Vitalize Peel treats moderate skin imperfections including lines, acne scars, and hyperpigmentation. Typically, a series of 3 to 6 peels is recommended for optimal results that can be repeated every 4 to 6 weeks. The Vitalize Peel requires a brief period of downtime and causes 2 to 5 days of mild peeling.
Rejuvenize Peel® | 30 minutes | $175 | $360 for a series of 3
Intended to treat more severe skin concerns, we frequently recommend the Rejuvenize Peel for sun damage, moderate wrinkles, and melasma. This peel typically yields maximum results after a series of 3 to 5 peels, each of which can be completed at least 1 month apart. Patients experience more moderate peeling for 2 to 5 days.
Skin Resurfacing
Dermaplaning
This service is a fantastic exfoliating treatment performed using a sharp blade to comfortably shave away the damaged outer layers of the skin. Dermaplaning is a painless and safe way to achieve smoother, brighter skin.
Microdermabrasion
Using a diamond tip, our microdermabrasion treatment diminishes the appearance of deeper scars and skin imperfections by removing unwanted layers of damaged skin. Microdermabrasion evens the tone and pigments of the skin while minimizing fine lines and the effects of sun damage.
Microneedling
During a microneedling treatment, a fine needle is used to penetrate the superficial layers of the skin to induce collagen formation and encourage the absorption of topical skincare products. This popular resurfacing treatment can be used on all areas of the body as well as all skin types. The improvement of skin texture and reduction of fine lines and scars is due to increased circulation and collagen regeneration.
Makeup Artistry
Mineral Makeup Application
Whether it's a special date, prom night, or even a wedding, we know looking your best can make all the difference. Our skin care therapist carefully matches your coloration to our line of ColoreScience®mineral makeup. ColoreScience's makeup was created to help you achieve the most flawless skin possible while combating the harmful effects of the sun and other environmental factors. These products feature skin-friendly ingredients including peptides, vitamins, and zinc oxide.
Eyelash & Eyebrow Tinting
Tinting accentuates the length and thickness of lashes and brows. We offer numerous shades from which to choose in order to best match your hair color and natural skin tone.
Hair Removal
Laser Hair Removal
Using the latest in full-spectrum laser technology, unwanted hair can be comfortably removed from just about any surface of the body. Because hair grows in several phases, multiple treatments are typically required for superior, permanent hair reduction.
Skincare Products
Improve your beautiful results at home with the clinically proven products and devices available at our practice. We carry items from:
SkinMedica®
ZO® by Zein Obagi, M.D.
Clarisonic®
Derma Roller System®

Back to Top