Freeman Plastic Surgery Laser & MedSpa: Mark E. Freeman, MD
1855 Madison Avenue
Idaho Falls, ID 83404
Phone: (208) 881-5351
Toll-Free: (866) 833-5351
Mon–Thu: 8:30 a.m.–5 p.m.
Fri: 8:30 a.m.–4 p.m.

Ultherapy®

At our Idaho Falls practice, people concerned about sagging skin and wrinkles are often good candidates for Ultherapy, a non-surgical treatment that lifts and tightens the brow, lower face, neck, and upper chest. With little to no downtime, patients find this completely non-invasive treatment a convenient, simple way to refresh their faces.
To learn more about non-surgical skin tightening treatments with Ultherapy in Idaho Falls, Request a consultation to meet with Dr. Mark Freeman. Or call our office at  (208) 881-5351 to schedule an appointment.
What Is Ultherapy?
Ultrasound energy is a time-tested medical technology first used clinically more than 50 years ago. The Ultherapy system harnesses that ultrasound technology to bypass the skin's surface and deliver carefully controlled heat energy at specific depths below the skin. This triggers the body to produce collagen, an essential component of firm and youthful-looking skin.
Because Ultherapy doesn't wound the skin's exterior, there is little to no downtime following treatments.
Is Ultherapy Right for Me?
For many patients, Ultherapy is an excellent option to address early signs of aging without surgery. However, some patients who have more significant skin laxity and jowls may be better candidates for a surgical approach with facelift surgery. Others who are concerned primarily about fine lines or uneven skin texture may be better suited for laser resurfacing or another treatment. Dr. Freeman or another member of our team can help you determine which approach will best meet your goals.
Before & After Photos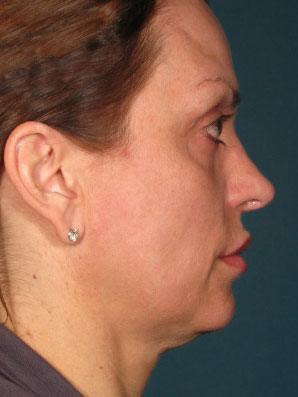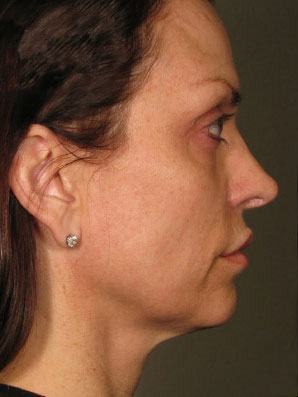 Photos Courtesy of Ulthera®
This patient is shown before and 1 year after undergoing Ultherapy treatment.
Before & After Photos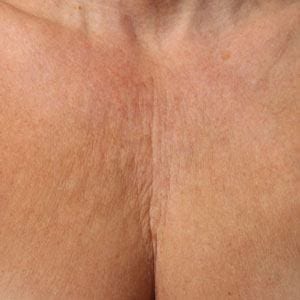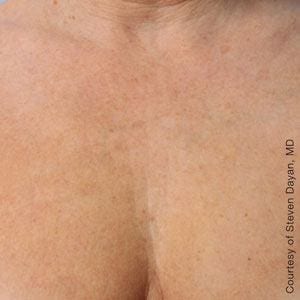 Photos Courtesy of Ulthera®
Ultherapy is cleared by the FDA to treat décolletage lines and wrinkles. This patient is shown before and 6 months after Ultherapy treatment.
View Before & After Photos
What to Expect During Your Ultherapy Procedure
An Ultherapy treatment begins with the application of a cool gel on the targeted area. We then pass a smooth handpiece over the treatment areas, delivering ultrasonic energy. Some patients report feeling a slight tingling and warming sensation during the process. A local anesthetic helps minimize any discomfort you may experience.
Depending on the area being treated and your specific treatment plan, an Ultherapy procedure can take between 60 and 90 minutes for the face and neck. Treating the chest takes about 30 minutes.
Once the treatment is complete, you can return to work or any other normal daily activities. Most patients need only one treatment session to see results.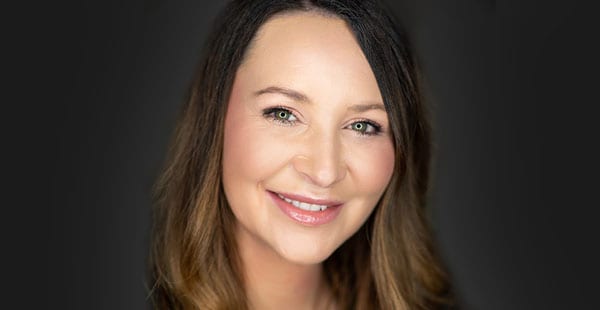 Meet Shasta
Our licensed aesthetician Shasta is highly trained in a wide range of technologies, products, and procedures. Her varied experience ensures the best course of treatment for your unique needs.
What Is Ultherapy Recovery Like?
Immediately after your Ultherapy procedure, you may notice the treatment area is flushed and there may be some minor swelling and tenderness. These minor side effects are temporary. There are no special instructions to follow after the treatment.
When Will I See My Ultherapy Results?
Your results emerge gradually as your collagen builds over the following weeks. You may see some initial "lifting" right away, but it usually takes 2 to 3 months before you see the final results. The results are long-lasting, but the normal aging process continues and additional treatments might be needed in the future.
Back to Top