Body toning and sculpting are probably at the top of your mind as the temperatures start climbing. However, even with consistent and high-intensity workouts, achieving your dream body is challenging. If you are struggling to tone areas such as the buttocks, thighs, and abdomen with a low-calorie diet and exercise, CoolTone might be a good option for you.
It may seem too good to be true—a device that tones and strengthens your muscles while you lie there in comfort—and you may be wondering whether it's really worth a try. In this post, we'll explain how CoolTone works and how fast it can get your body summer-ready so you can decide for yourself if CoolTone is worth it.
How Does CoolTone Work?
The CoolTone system channels high-frequency electromagnetic energy to your muscles to generate involuntary muscle contractions. These contractions cause your muscles to contract and relax rapidly, toning and strengthening them in a few short treatments. Although you may experience muscle spasms during CoolTone, these muscle contractions are not uncomfortable.
Benefits of Using CoolTone To Help Build Your Summer Body
CoolTone offers many perks in addition to helping you feel confident and strong when you bare your abs in a swimsuit, spend a day water skiing, or wear tight-fitting clothing this summer. Here are a few of those benefits:
CoolTone Requires Little Downtime (Giving You Time for Summer Fun)
This procedure firms and tightens your body without surgery or the need for a lengthy recovery period. Most surgical body contouring procedures require taking time off work and arranging for assistance around the house during recovery.
With CoolTone, no anesthesia or incisions are needed, and you can typically resume your regular routine immediately. You may experience some muscle soreness after your procedure, but these aftereffects are temporary, and you will be soaking up the sun in no time!
CoolTone Gives You Fast Results
If you are impatient to hit the surf and prefer a fast and easy body contouring treatment, CoolTone is right for you. Typically, you can see results almost immediately after your CoolTone session, although it will take a few weeks to see the full results.
Working out to improve muscle tone can be time-consuming, and you may not get the desired result in hard-to-tone areas of your body. With CoolTone, you can achieve results with just 2 30-minute sessions a week for 3 weeks.
CoolTone Sculpts Your Body – No Sweating Needed!
You may be impatient to get your body summer-ready but unable to exercise due to an injury or health condition. CoolTone can strengthen your muscles without engaging in physical activity. Although physical activity is important for overall wellness and maintaining your results, this procedure can get you on the right path to a stronger body.
Make sure to talk to your provider about any medical conditions you have or if you are on medication. This will ensure you get an effective and safe outcome from your CoolTone treatment.
CoolTone Results Are Long-Lasting
Our patients typically prefer a body contouring treatment with results that will last throughout the summer or longer. CoolTone can give you long-lasting results that may last indefinitely with a proper maintenance routine.
To maintain your results, focus on good nutrition and exercise regularly to keep the treated areas firm and toned. You can also schedule touch-up procedures at regular intervals to keep your body contoured.
CoolTone Enhances Your Bikini-Ready Body
CoolTone gives you an extra edge in sculpting and contouring your body, even if you already feel confident in a bathing suit. Since it can focus on areas that are typically hard to tone with exercise, you can achieve your desired contours with a combination of intense workouts and CoolTone sessions.
CoolTone creates muscle definition, growing new protein strands and muscle fibers in response to intense muscle contractions. As a result, you can push yourself harder in the gym and enjoy a more muscular, leaner physique. You can combine your CoolTone session with CoolSculpting® for stubborn fat removal and additional contouring.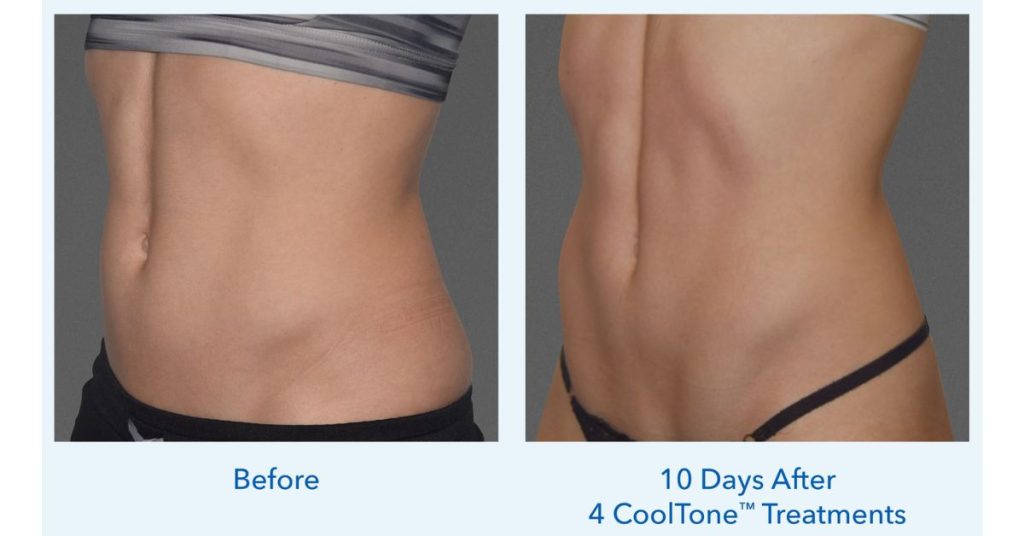 How Many CoolTones Sessions Will I Need for the Best Results?
The number of sessions you need will depend on your body goals, muscle condition, and the areas you want to tone. We typically recommend scheduling 2 treatments a week for 3 weeks (for a total of 6 treatments). Based on your results, you can schedule additional CoolTone sessions if needed. Your provider can advise you on the optimal number of sessions for your desired results.
CoolTone is a nonsurgical and speedy way to tone and contour your body for the summer with little downtime. Our patients enjoy the many benefits of CoolTone, including seeing results without spending hours at the gym. To see if you are a good candidate for CoolTone, request a consultation or call us at (208) 881-5351 to schedule an appointment.