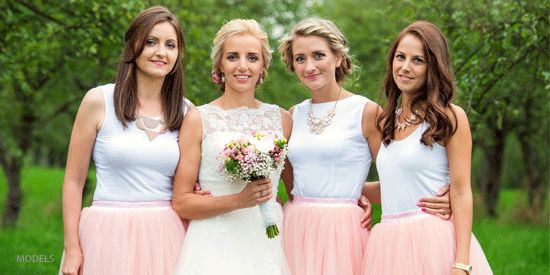 Love is in the air, and wedding season is here! Whether you're a bride, bridesmaid, mother of a bride, or a groom or you simply have a stack of save-the-dates piling up for friends' weddings this summer, now is the time to start preparing to look your best. We have a few favorite treatments that we think you'll love, from simple skin refreshers to BOTOX® Cosmetic, offered at both of our plastic surgery practices in Idaho Falls and Jackson Hole.
Start planning these treatments now so you can make the most of your results! Here are our picks for wedding season and how far ahead you should get them.
HydraFacial MD®, at least 2 days before
We love this treatment, and our patients do too! The HydraFacial MD treatment replenishes skin with nutrients and moisture that it needs to look bright and healthy. It evens out the texture of your skin and gives it an incredibly soft, silky feel that you can't get from normal skin care products. Your skin will thank you after this treatment, and you'll really glow in all those wedding photos!
BOTOX Cosmetic, at least 7 to 10 days before
This classic treatment is known for its ability to reduce the appearance of fine lines and wrinkles, creating a refreshed, rested appearance with little to no discomfort or downtime. It's a tried and true option for members of our practice as well as many of our patients, who can attest to its results at targeting wrinkles around the eyes and brow caused by facial expressions. If you're interested in trying BOTOX but still unsure, check out the experience of our recent guest blogger who received the treatment for the first time. It may be just the trick to keep your face smooth and youthful all summer — even at those bright outdoor events that will have you squinting.
Forever Young BBL™, at least a month before
If you're interested in light and laser treatments, this is a great place to start. This treatment uses a handheld device that is placed against your skin and delivers low-frequency light energy to the deep layers of your skin to treat issues at their source. It can treat a variety of issues including acne, discoloration, rosacea, and texture concerns, and it can even be used for hair removal. What's unique about Forever Young BBL is that it transforms the structure of skin cells, stimulating the production of fresh, new skin cells and collagen. While our practitioners will help you determine the best BBL treatment plan for your needs, the results you'll see will include a glowing, even skin tone and reduction of problems such as age spots and fine lines. Plus, there is little to no discomfort — most people feel just a mild tingling sensation — and results can be enhanced with more than one treatment.
Skincare & Makeup Products, anytime
We can't stress the importance of choosing the right skincare products enough. If you want the results of your treatments and facials to last, you should be protecting, hydrating, and maintaining the health of your skin with high-quality products from medical-grade lines. SkinMedica®, and ZO®,  all offer diverse lines with options for every skin type and tone. Not sure where to start? Don't worry, our in-house experts will be able to direct you to the best products for your needs. Get on a comprehensive regimen now to see strong results by the time your summer events roll around.
To top off your healthy skin and enhance its appearance, you'll want to use high-quality makeup, too. With the right treatments and skin care products, you've taken care of the health of your skin. Now, you want to let it shine! Right now, we're loving Jane Iredale's line of mineral-based makeup that offers a natural look that still highlights your favorite features. From foundations to lip gloss and everything in between, this line of products will keep you glowing all day and night long!
You'll want to have that gorgeous glow by the time you head down the aisle or hit the dance floor. Ready to get started? Request a skincare consultation online to talk about products, BBL, or BOTOX, or call our practice directly at (208) 881-5351. We can't wait to help you get perfect skin for your perfect day.