It's no surprise that broadband light therapy (BBL) holds broad universal appeal—it's one of the most versatile treatments available today! Not only does it correct skin imperfections like acne and discoloration, but it also helps reduce—and even stop—many common and visible signs of aging.
While BBL light therapy continues to gain popularity in Idaho Falls, is it the right choice for you? Let's look at what to expect from broadband light therapy, how it works, and what BBL benefits and results you can expect from your treatment with Freeman Plastic Surgery.
What Is Broadband Light Therapy (BBL)?
BBL from Sciton® is a nonsurgical light therapy that transmits low-frequency light energy to the skin. It brightens and smooths skin while producing collagen that also helps skin repair itself. During a BBL procedure, we apply pulses of energy, or intense pulsed light (IPL), to heat and stimulate the deeper layers of the skin. The pigmented areas of your skin absorb the light energy and convert it to heat to improve skin imperfections like:
Uneven skin tone, redness, and freckles
Acne scars
Wrinkles and fine lines
Sunspots and sun damage
Large pores
Lax skin
Spider veins
Unwanted hair
Does BBL Hurt?
A BBL treatment at our practice takes approximately 30 minutes and requires no anesthesia. While numbing cream is available to patients, keep in mind that BBL is a gentle therapy, and most patients only feel a mild stinging sensation during the procedure.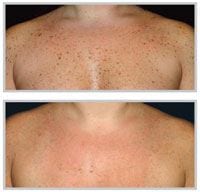 How BBL Targets and Transforms Skin Concerns
Let's explore how BBL targets and rejuvenates common "problem areas" using its skin-perfecting superpowers:
Uneven skin tone and redness
Broadband light treatment targets unwanted skin pigment, such as redness from rosacea. The laser heats and breaks up blood vessels that cause coloration. Simultaneously, light energy helps stimulate collagen growth to restore and even out the complexion.
Acne scars
A series of 4 to 6 treatments is often necessary to target and destroy acne bacteria lurking deep within the skin. BBL wavelengths clear the skin, break down acne scars, and reduce inflammation.
Wrinkles and fine lines
BBL helps restore your skin's smooth, supple appearance by stimulating collagen production. The frequency of treatments usually depends on the severity of lines and wrinkles.
Sunspots and sun damage
Combat years of sun exposure by using laser therapy to strategically pinpoint age spots and hyperpigmentation caused by sun damage.
Large pores
BBL (as well as our HALO™ laser treatment) corrects oily or aging skin by shrinking pores and smoothing the skin.
Freckles
Kiss your freckles goodbye by targeting the hyperpigmented cells, breaking them apart, and producing collagen to grow new skin layers.
Loose, sagging skin
Light therapy provokes skin cells to contract and tighten, smoothing and firming loose skin—no surgery required!
Spider veins
Penetrate and erase spider veins caused by "broken" valves in your veins with wavelengths of BBL laser light therapy.
Unwanted hair
How about this bonus? BBL heats and breaks apart follicles, eliminating unwanted, unsightly hair.

What Is Forever Young® BBL?
What is the difference between BBL and Forever Young BBL? Think of BBL as corrective in nature, while Forever Young BBL can actually slow down signs of aging. Forever Young BBL rejuvenates skin DNA to mimic the look and feel of younger skin. It turns back time for skin cells, causing them to behave like younger versions of themselves. They produce more collagen and proteins, resulting in younger, firmer-looking skin.
Corrective BBL requires fewer light therapy treatments administered with higher energy, whereas Forever Young BBL patients receive more treatments using lower energy. Many patients begin with 1 or 2 BBL therapy sessions and then transition to Forever Young BBL to help maintain skin tone and prevent further signs of aging. This quick video shares more benefits of Forever Young BBL treatment.
BBL Benefits and Results
Why is BBL growing in popularity among male and female patients? For starters, it's versatile, noninvasive, and delivers excellent outcomes. Here are more reasons to consider trying broadband light therapy:
No surgery or downtime
BBL is a gentle, nonsurgical procedure with an easy recovery. Unlike harsher laser treatments, it doesn't cause burns, bruising, or peeling. There is virtually no recovery or downtime.
Works double duty
BBL not only restores damaged skin but also stimulates collagen to help stop the clock on skin aging.
One-stop-shop
Light therapy (almost!) does it all by safely and precisely treating a variety of skin conditions anywhere on the body, such as sunspots, rosacea, acne, age spots, freckles, spider veins, and excess hair growth.
Fast, visible results
BBL results can last indefinitely, especially if you follow a good skin care regimen and protect your skin from the sun.
Let's discuss whether BBL laser therapy is right for you! Contact our Idaho Falls practice to request a BBL consultation or call us at (208) 881-5351 to schedule an appointment.