If you think about what it takes to get an attractive, contoured shape, it involves both minimal fat and toned muscles. CoolSculpting® treatments at our Idaho Falls practice can reduce fat without surgery, and now CoolTone™ can build and tone muscles in the abdomen, buttocks, and thighs.
How to Look 'Cool'
Many women and men who regularly work out, lead active lives, and watch what they eat still have areas of their bodies that seem to defy those efforts. Maybe it's "love handles" or an abdomen that never seems to show off the results of doing crunches. CoolTone and CoolSculpting can help get you past the plateau.
CoolTone vs. CoolSculpting
As you may have guessed, the same company that developed CoolSculpting is behind CoolTone, a treatment cleared by the FDA for treating the abdomen, buttocks, and thighs. The technology used by each treatment is different, though.
CoolSculpting uses controlled cooling to gradually "freeze" fat cells, which are then naturally removed from the body as waste.
On the other hand, CoolTone uses a technology called magnetic muscle stimulation (MMS) to build and enhance muscle tone. A CoolTone treatment delivers pulses of electromagnetic energy to the targeted muscles, triggering a rapid succession of involuntary muscle contractions. These contractions strengthen muscle fibers, much like when you do a series of squats or situps at the gym. The difference is that while you may be able to complete, say, 50 to 100 sit-ups during a single workout session, CoolTone simulates the equivalent of 25,000 situps during a 30-minute treatment for a patient targeting the abdominal area.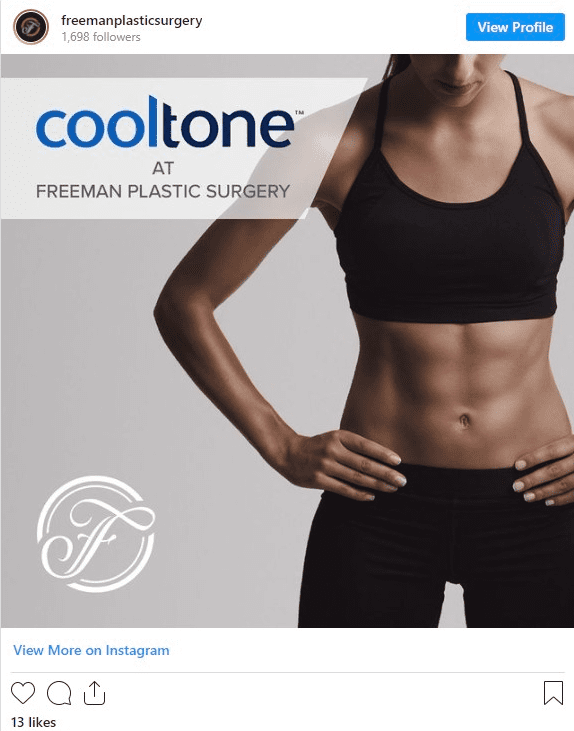 What Is a CoolTone Treatment Like?
Even though it sounds like an impossibly intense workout, the treatment itself isn't uncomfortable. The procedure begins when we attach a paddle-like device to the treatment area while you're lying down. Unlike skin and fat, muscles efficiently conduct magnetic fields. When the provider activates the CoolTone device, the electromagnetic energy passes through the skin and fat and engages the muscle. You'll feel the thousands of involuntary contractions, but they won't hurt. After the treatment, though, you can expect to feel the type of soreness you'd expect after a particularly strenuous workout. This will last about a day or 2.
Each treatment lasts around 30 minutes, and we recommend an initial series of 4 procedures, spaced one month apart.
As with CoolSculpting, good candidates for CoolTone treatments are women and men who are already at or near the weight they want to maintain and who are looking to put the final touches on the contours of their midsections, thighs, or buttocks.
If this sounds like a treatment that can benefit you, contact our office using the online form to request a consultation or call us at (208) 244-7864 to schedule an appointment.