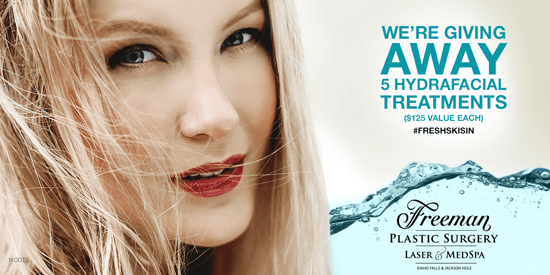 Our #FreshSkinIsIn sweepstakes is in full force, and 5 entrants will win a complimentary HydraFacial MD session. For those of you wondering just what exactly a HydraFacial is, we've got all the details.
Your appointment at our Idaho Falls plastic surgery practice begins with an in-depth skin consultation with either Paige or Camille, our medical aestheticians. This includes a VISIA® skin analysis, in which your aesthetician captures key information about your skin that may be affecting its health and appearance, measuring and examining wrinkles, spots, pores, texture, bacteria levels, and UV damage.
After your aesthetician reviews your skin's health, she leads you into a calm spa treatment room where you get cozy in a heated spa chair. She begins your treatment with a relaxing facial cleanse using a Clarisonic® brush to remove dirt and debris.
Then comes the HydraFacial. As your aesthetician carefully maneuvers the treatment wand across your skin, you feel a gentle suction as small bursts of antioxidant serums are infused into your skin. If needed, your aesthetician may also perform extractions. This will take about 15 to 20 minutes depending on your skin.
Your aesthetician then treats your skin with an anti-aging, calming, or hydrating mask. Afterward, she applies a protective vitamin C serum, as well as a hydrating SPF. If you have plans immediately after, she can do a quick application of our beautiful Jane Iredale Mineral Cosmetics. The end result is glowing, super-dewy skin with a reduction in fine lines and wrinkles and a difference you can see and feel instantly.
So are you ready for fresh skin? Sign up for our #FreshSkinIsIn sweepstakes for the chance to win a HydraFacial treatment!