If you are new to the world of laser and light-based skin treatments and don't know where to start, you should know that HALO laser treatment and BBL therapy are 2 excellent skin rejuvenation treatments. Although they address some of the same skin concerns, the 2 treatments work in different ways. Before deciding which treatment is best, you should understand the technology behind HALO and BBL.
How Does HALO Work?
The HALO laser is a fractional laser that uses both ablative and non-ablative wavelengths to treat skin concerns. The ablative laser improves surface skin issues, while the non-ablative laser penetrates the deeper layers to stimulate collagen production and enhance your skin's appearance. This combination of technology gives you effective results with minimal downtime.
Read this related post to learn more about how the HALO laser works.
How Does BBL Therapy Work?
BBL treatments use pulses of energy, also called intense pulsed light (IPL), to heat the deeper layers of the skin and improve collagen production. The pigmented areas of your skin absorb the broad-spectrum light energy and convert it to heat, which improves issues such as freckles and discolorations. BBL is considered a gentler skin rejuvenation treatment suitable for patients who prefer something less aggressive.
What Are the Benefits of HALO Treatment?
The main benefit of this fractional laser treatment is that it delivers the benefits of both an ablative and non-ablative laser. Certain skin concerns, such as fine lines, scarring, and aging signs, require more robust laser treatment. In addition to improving deeper skin concerns, HALO can address skin texture and tone.
HALO effectively addresses a variety of skin concerns by creating microscopic injuries in the skin. Although the injuries heal quickly, there is some downtime associated with this treatment. After your HALO session, you will experience some peeling and redness for a few days.
Skin Concerns You Can Improve With HALO
HALO can improve the following skin issues and is easily customizable to achieve your desired results.
Sun damage
Scarring, including acne scars
Large pores
Fine lines and wrinkles
Skin texture issues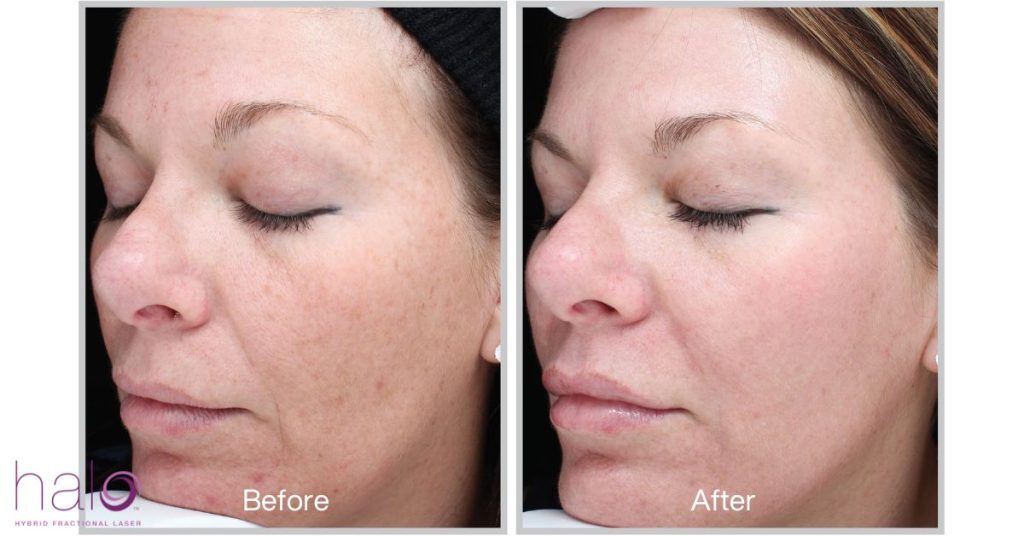 What Are the Benefits of BBL?
A benefit of BBL is that it can improve surface skin issues with minimal downtime. The light energy emitted during BBL therapy only targets pigmented cells and doesn't impact the surrounding skin. Typically, our patients can resume their regular routine immediately after their BBL treatment.
Our practice also offers Forever Young BBL, which can increase collagen production for stronger, more youthful skin.
What Skin Concerns Can BBL Improve?
BBL can improve the following pigment irregularities for more radiant skin.
Freckles
Age spots and discoloration
Hyperpigmentation
Pigmented lesions
Sun damage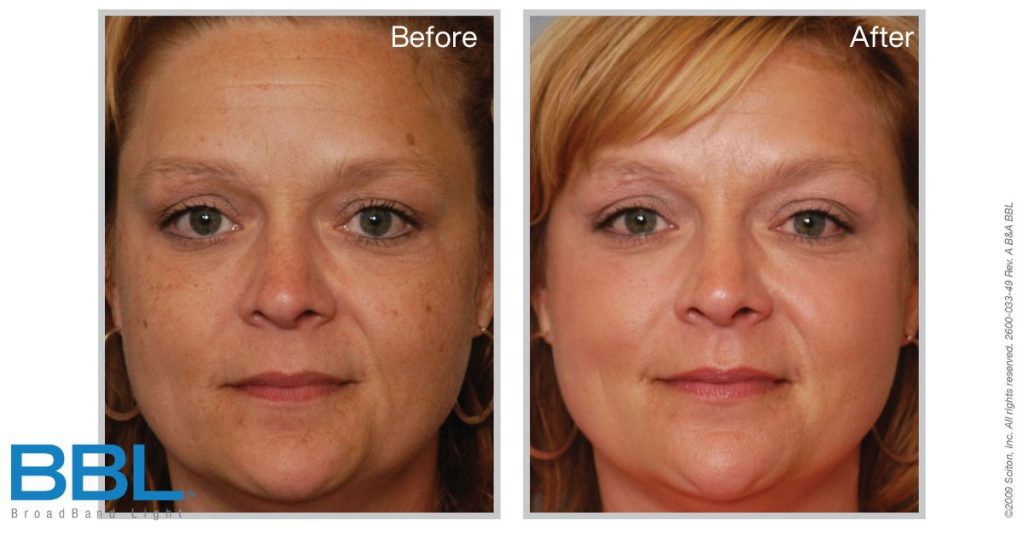 You can also combine other nonsurgical treatments, such as laser skin resurfacing, with your BBL treatment for more comprehensive facial rejuvenation.
How Many Sessions Will I Need With HALO vs. BBL?
Since HALO is a more intense treatment, you can see results with fewer sessions. Our patients typically need only 1 to 2 sessions to improve facial lines and skin texture concerns. If you opt for BBL you may need several treatments depending on the severity of your skin pigment issues. Your skin type may also affect the number of HALO or BBL sessions you will need.
Your provider will consider your skin type and concerns before recommending the optimal number of HALO or BBL treatments. Choosing an experienced provider who can give you effective and long-lasting results is important.
What To Expect During Your HALO Treatment
Depending on your skin concerns, your HALO treatment can last anywhere from 20 minutes to 1 hour. Your provider will numb the specific areas for your comfort before administering the treatment. They will also adjust the handpiece setting so you get the best treatment for your skin type and skin concern.
In the first 2 or 3 days after treatment, you'll notice some redness, swelling, and a slight bronze tinge in the treatment area. By day 3 or 4,  the skin begins lightly flaking, revealing fresh skin. Expect to see optimal results in the first 2 or 3 weeks.
Will I Experience Discomfort During My BBL Treatment?
You will be happy to know that you can expect minimal discomfort during your BBL session. While there is no need for numbing cream during this treatment, it's available if you need it. Most patients only feel a mild stinging sensation on their skin during BBL therapy. Your treatment should take around 30 minutes to complete.
BBL and HALO are excellent noninvasive treatments that refresh and rejuvenate your skin. When choosing your treatment, make sure you consider results, recovery, downtime, and longevity of results. To see if you are a good candidate for these treatments, request a consultation or call us at (208) 881-5351 to schedule an appointment.